For Vision. For Health. For Life
Lifetime Eye Care has been serving the eyecare needs of Charleston and the surrounding communities since 1990. We added an additional office in Mattoon in 2019. Both offices provide the latest technology, friendly staff, and the highest quality glasses and contact lenses. Doctors Mark Esarey, Darcy Duzan and Derek Hennig practice at both locations and have convenient hours available. We accept most health insurance plans like Medicare, BCBS, and many more. We also are providers for vision plans like Eyemed and VSP. Call us at 217-345-6600 to check your benefits and schedule an appointment.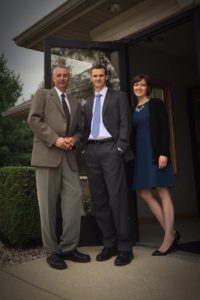 Our eye exams are extremely thorough. If fact, we regularly hear from our patients that they have never had an eye exam as thorough as the ones they get at our offices. We have the technology, expertise and products to provide vision solutions for just about any situation! We want you to see as clearly as possible, maybe even clearer than you ever have before! But, we also strongly believe examining your eye health is the most important thing we do during your visit.  Think of a yearly eye examination as a "physical" for your eyes, and make it an essential part of your healthcare routine. We provide eye exams for cataracts, diabetes, glaucoma, macular degeneration, and so much more. We have specialty testing and treatment for dry eyes and specialty contact lenses that are not found at most offices.
We want to get to know you and your eyes and work with you to provide the best care for your vision, your health, and your life! It's our motto!
We can't wait to see you. Schedule an appointment with one of our providers today!
Mark D. Esarey, OD
Darcy L. Duzan, OD
Derek B. Hennig, OD